Bridge & Swap
We are pleased to announce the release of version 3 of our product development at RelayChain. Today we launch our Bridge & Swap solution! This is a major milestone for our platform, bringing us one step closer to optimizing the user experience by prioritizing seamless cross-chain functionality. By connecting users to 25 chains, 15 bridges, and 31 exchanges.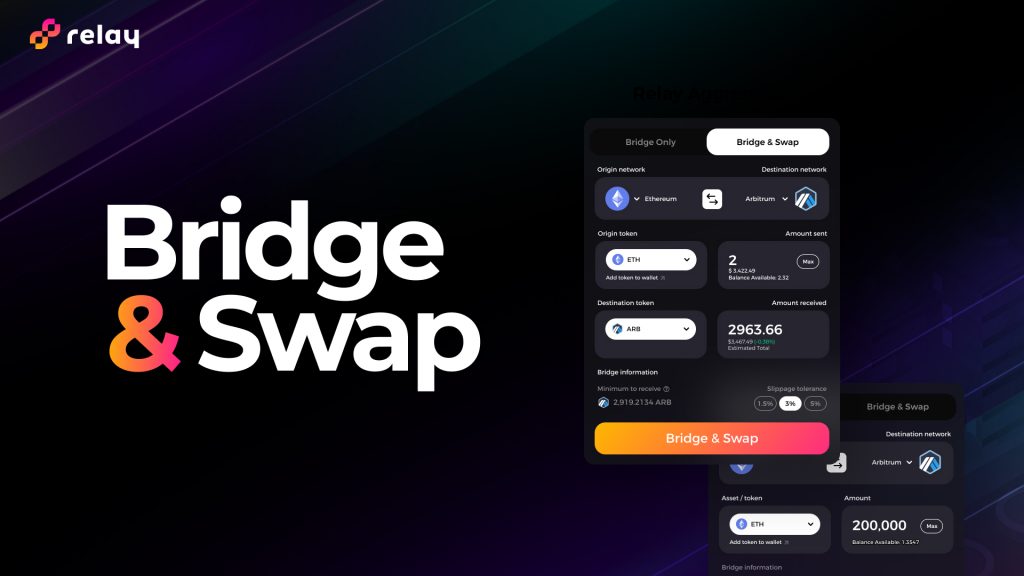 With Bridge & Swap, RelayChain users will be able to seamlessly bridge and swap assets across multiple blockchain networks in a single transaction. Partnering with some of the top projects in the business, including Squid, LI.FI,  and Synapse, we've created a service that will deliver a seamless, intuitive, and simple user experience. With this innovative Bridge & Swap solution, we are transforming the way users use–and see–blockchain networks.
Bridge & Swap Explained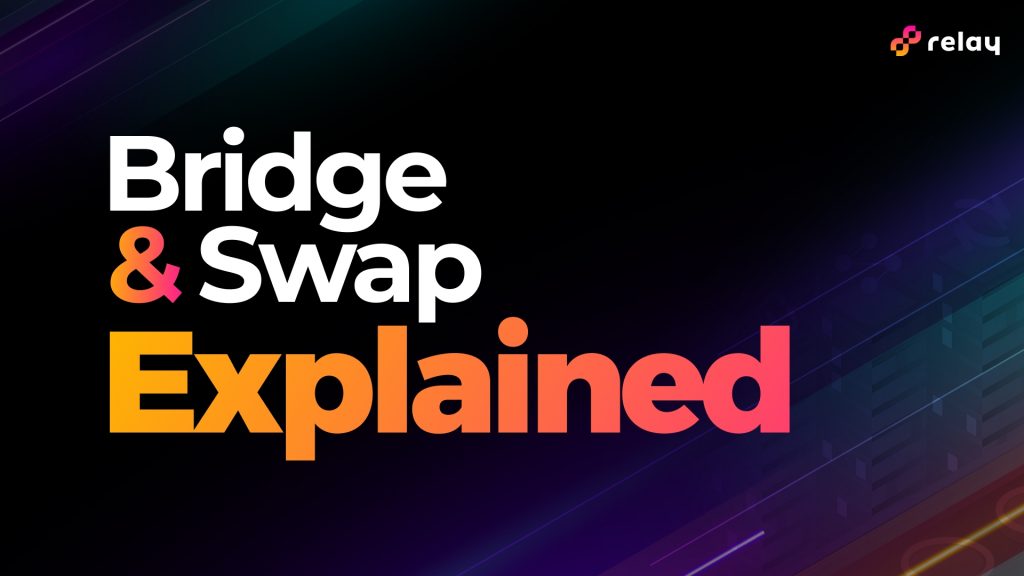 By combining the product offerings of RelayChain, Synapse, LI.FI, and Squid into one Bridge & Swap user interface, we've created a powerful solution that allows users to move assets between different blockchain networks in a single transaction. Continue reading to learn more about each solution's features and how they work together to make cross-chain trading a breeze.
RelayChain
RelayChain's Bridge & Swap combines our existing bridge aggregator with powerful DEX aggregation, allowing multiple swaps and bridges in a single transaction. This approach allows us to provide the best available pricing by making multiple transactions on both the source and destination chains in the background. 
In other words, a simpler UX and flexible, optimal swaps for users.
Squid
Squid is a decentralized cross-chain token router that utilizes Axelar's cross-chain communication technology to access liquidity across multiple blockchains. It achieves this by aggregating multiple decentralized exchanges (DEXs) and finding the best prices for users across them.
Squid's use of cross-chain communication technology enables it to access liquidity across multiple blockchains, which is essential for providing a seamless cross-chain trading experience for users. By finding the best prices across multiple DEXs, Squid ensures that users can quickly and easily find the best prices for their trades, regardless of the blockchain network or DEX they are using.
LI.FI
The Li.Fi platform utilizes its proprietary technology called Cross-Layer Multi-Chain (CLMC) to enable interoperability between different blockchains, such as Ethereum, Binance Smart Chain, and Polygon. By doing so, LiFi Finance aims to overcome one of the main challenges facing the DeFi ecosystem, which is the fragmentation of liquidity across different blockchains. 
Synapse
Synapse is a cross-chain liquidity protocol that utilizes a unique approach to enable bridge and swap functionality across multiple blockchain networks. It achieves this by creating its own liquidity pools, which are accessible to users looking to trade or transfer assets across different blockchain networks. These liquidity pools enable Synapse to offer competitive prices for users and make it easier for them to find the liquidity they need for their trades.
Synapse recently launched the ability to facilitate bridge and swap functionality in a single transaction, which simplifies the process of cross-chain interoperability and makes it more accessible to a wider range of users.
Gamifying Cross-Chain Trading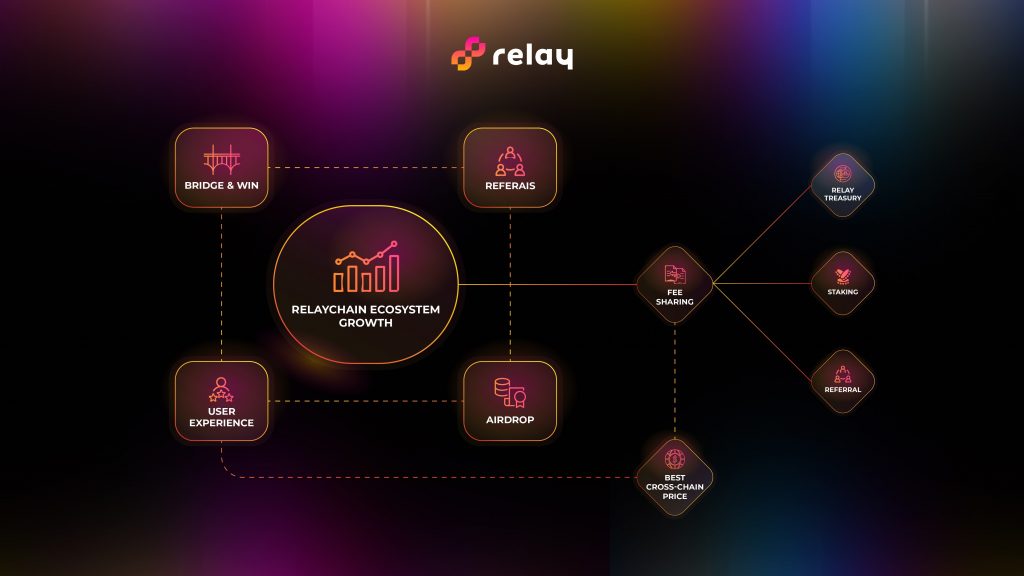 Fees
RelayChain is creating a sustainable ecosystem for all users, and, to achieve this goal, we will collect a nominal fee on every transaction made on our platform. These fees will be dispersed in thirds, with one-third going to our Referral Program, one-third to RELAY token stakers and one-third to the Relay treasury. In the event that there are no referrals, the fees will be divided equally between RELAY token stakers and the Relay treasury. We believe that this approach will help to create a healthy and thriving community of stakeholders who are invested in the long-term success of RelayChain.
Referrals
Referrals https://bridge.RelayChain.com/referral
The Referral program is designed to reward our community for sharing RelayChain with others. The referral program has two parts: the referrer and the referee. When you refer a user to our platform, both you and the user receive rewards! 
The Referrer: Generate a referral code from our referral page and share it with your friends to use during their transactions. As the referrer, you will receive a fee split and an airdrop modifier for each successful transaction. 
The Referee: Enter a referral code during a bridge transaction to receive an additional Bridge & Win ticket – a two-for-one! – which increases your chances of winning in our weekly draws.
Bridge & Win
https://bridge.RelayChain.com/bridgeandwin
Here's how it works: Simply perform any bridge or bridge & swap transaction to any blockchain and you will receive a ticket. Then, check the countdown on our website to see when the draw will take place, and, after the draw, check if you've won and claim your prize! 
There are 10 winners per one-week draw period, and any unclaimed winnings are forfeited after 30 days and returned to the prize pool for future draws.
Airdrop
https://bridge.relaychain.com/airdrop
RelayChain has launched an airdrop program, designed to reward our active and loyal users. There will be multiple seasons, each with its own unique twist, and of course, a chance to win big. Join us for the first season by bridging today!
To participate in Airdrop Season 1, all you have to do is:
Use RelayChain – the more you use it, the more you can earn,

Share your unique referral code and receive bonuses when others use it, and

Hold veRELAY on Arbitrum to receive additional modifiers.
Staking
https://bridge.relaychain.com/staking
Simply by staking RELAY tokens to accumulate veRELAY, you'll gain an airdrop modifier and a share of future generated fees, providing even more opportunities to boost your earnings.
Additionally, every successful referral earns additional airdrop bonuses. At Relay, we believe in creating a sustainable ecosystem that benefits everyone involved and we are committed to rewarding our users for their participation in our platform.
Stay tuned on Twitter and our other social media outlets for future integrations!