Introduction
Our team is excited to share the third round of details for our upcoming Battle of the Blockchains (BotB) game! In this update, we will announce the Avalanche mint date/price, introduce some of the team working on BotB, and reveal our second key launch partner.  
BotB will be one of the first cross-chain NFT games where champions from each blockchain will battle for prizes, bragging rights, progress perks, and more! Our first mint will take place on Avalanche, where we've created 10,000 unique NFT Champions, coming from some of the most popular and trusted DeFi protocols on-chain. Be sure to follow our ongoing development progress at https://www.relaychain.com/botb
PSA (Public Service Announcement): Choose video games, not war!
Are you a community member who wants to add value to the BotB ecosystem? Fill out this form today! 
We'd like to reiterate two important items:
It was Relay community members who initiated the concept of BotB, which is an industry first in this space. We have answered your call. Please help us continue to spread the word!

BotB will continue to be a community-driven project, with the core Relay team providing crucial industry expertise. This balance will allow the core team to remain focused on Relay's core Bridging as a Service (BaaS) product in tandem with BotB development. 
Mint Details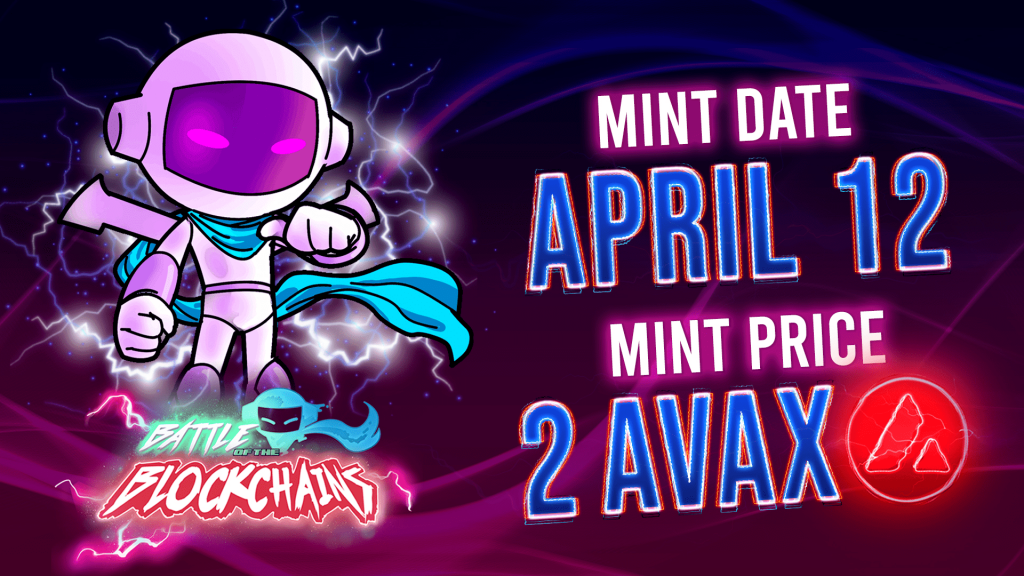 Mint Date: 4/12/2022
Mint Price: 2 $AVAX
Whitelist: We will be running contests right up until the day of the mint where you will have a chance to win a spot on the Whitelist (WL). 
What is a WL?
Winning a spot on the WL guarantees you will be able to mint (1) NFT without needing to stress about participating in gas wars. The WL mint will still cost 2 $AVAX, and all unclaimed WL spots will be available to mint during the public mint. So make sure to mint early, as the rest of the NFTs will go fast once the mint is made publicly available. 
How do I get on the WL?
The fastest way to get on the WL is to own $Relay. Anyone who owns 5000 $Relay will automatically have their wallet qualified for the WL. Keep an eye out on our Twitter for the exact time/date for the Snapshot! 
Additionally, you will have more opportunities through art contests and more on the @botb_game twitter, so stay tuned for more info! 
Key Launch Partner Reveal #2 
Here comes a new champion! We are proud to announce that Avalanche Party Animals (APA) will be joining the battle!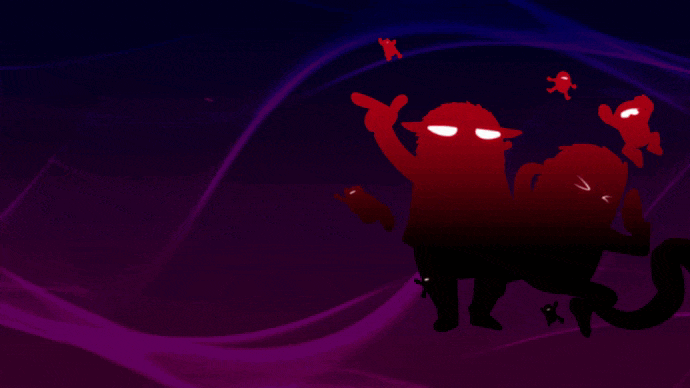 We will be generating 2000 NFT champions for APA, themed around APA's wolfie mascot. Each APA NFT Champion is hand-drawn by our talented artists and assigned rarity and ranking features which will play a role in our upcoming BotB game. There are 10,000 total NFTs generated for this first mint – which means community members participating in this minting round have a 20% chance to receive an APA Champion, per mint.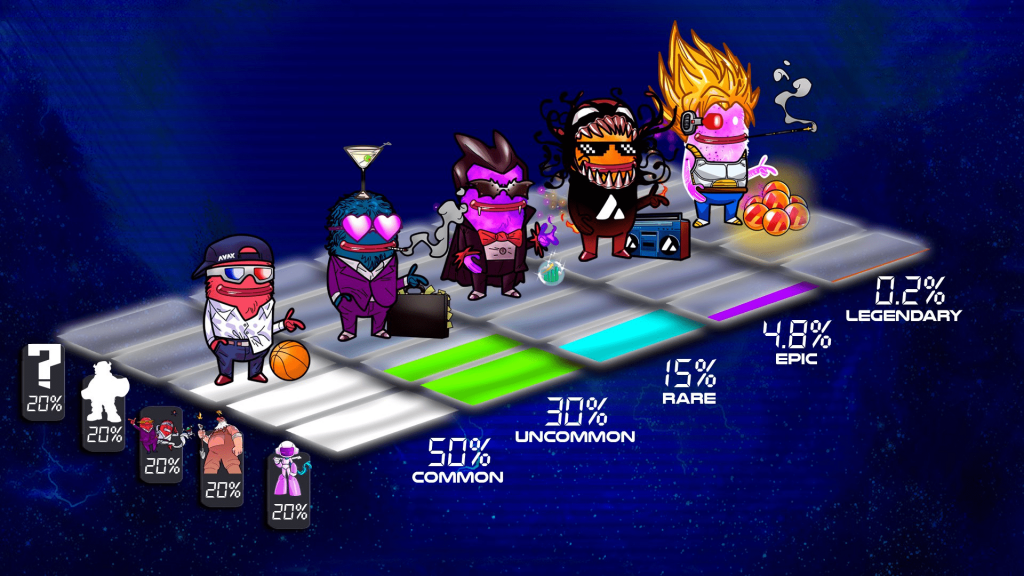 Note: Infographic is for informational purposes only. While the ratios will stay the same, rarity levels may be subject to change.
Team
Today we'd like to spend a little time talking about some of the team behind BotB. 
Who are the people working hard to make it all happen? We'll introduce part of the team today and the rest in future updates! All team names are Discord handles, remember we will NOT DM you first! If you are DM'd first there is an incredibly high probability this is a scam. 
All of us who work on BotB,  truly believe that Avalanche is a revolutionary platform on the Blockchain meta and we are here to deliver an incredible NFT gaming experience. While we are starting on Avalanche, we have plans to expand our presence on multiple chains this year! 
Since the release of the BotB landing page, you have seen the illustrative powers of our artists. Their video production skills are placed front and center on the Landing Page as we build in the background. We are incredibly excited to share with you what the team has been working on for months!  Keep an eye on the #artist-hangout on Discord for sneak peeks. 
Sneaky#6431 is a blooming solidity developer with years of software project management experience; he is an ex-OG Riot Games employee who is a lover of games, logic, and theory. With real-world experience in gaming, shoutcasting, and streaming, Sneaky brings valuable experience and connections to help us build something truly innovative. 
Christian-Q#2056 is the resident bleeding heart of the group and manages the day2day operations. While he isn't that techy, he sure knows how to launch a product that makes a meaningful impact on the world. Christian often draws from his experience at Amazon where he scaled retail operations and from his time as a Market Manager with Google. After his sentence was completed with the Megacorporations, he has built and run businesses in both the for-profit & non-profit sectors. 
LatinumMiner#7355 is our anti-cheat and fraud expert, he is an Ex-Riot Games fraud/risk director and has consulted for games like Fortnite during their launch. LatinumMiner is the first Advisor that we are proud to announce, with many many more to come. 
The BotB crew is ambitious and we'll need more innovators and builders as we create our game. The possibilities are endless in the crypto gaming space, and we are confident that we have the team and vision to create something unique and trendsetting. By staying true to our core values and deepening relationships with our partners at Leyline & Proof of Good DAO, we will lead the charge, we will continue to innovate, and we will create something that fosters mutually beneficial relationships between our project and players. 
More team members will be introduced in later articles.
Follow us on Twitter: https://twitter.com/botb_game  
Discord:  https://discord.gg/relaychain-botb
Website: https://www.relaychain.com/botb
About BotB
Battle of The Blockchains (BotB)™, a project of Relaychain.com, is a community-led NFT gaming project that plans to bring thoughtful, balanced, and fun game mechanics to players. BotB will be one of the world's first bridge-based NFT games, champions from each chain will battle for $$$$ prizes, bragging rights, investment income and more! By reproducing our core framework, forking and partnering with major players on each ecosystem, BotB will become a scalable solution that works across multiple blockchains, and helps to build a more unified metaverse. Follow us to learn more! 
About RelayChain
RelayChain enables fast, secure, and low-cost cross-chain token transfers between some of the world's leading blockchains. The platform offers Bridging as a Service (BaaS) to partner networks and dApps wishing to expand their footprint beyond a single chain. RelayChain currently supports bridges between any combination of Cronos, Harmony, Moonriver, IoTeX, Ethereum, Polygon, Binance Smart Chain, Fantom, Avalanche, Shiden, and HECO. Many additional popular networks will be added in the near future. A unique feature of RelayChain is that once a token exists on our platform, it can be bridged to any other EVM in our list of networks. This is done in a single step, without the need to return to the parent chain first. This technology represents a major evolution in speed and convenience for all our users, and lays a blueprint for the future of web3. The RELAY token holds high utility, as it's used to reward token stakers with a share of the native gas tokens collected from bridging fees. As a deflationary token, the more transactions that occur, the more RELAY is bought back and burned, continuing to increase the value of remaining token holdings. RelayChain will quickly enable any project's tokens to be bridged at no cost to the original project.