Introduction
Our team is excited to share the second round of details for our upcoming Battle of the Blockchains (BotB) game! Today, we'll dive into our Mintenomics, as well as a big reveal of our first key launch partner and a critical charity partnership. We have strategically chosen our launch partners to both ensure the long-term success of BotB and show our community the fundamental values we hold dear. 
 BotB will be one of the first cross-chain NFT games where champions from each blockchain will battle for $$$$ prizes, bragging rights, progress perks and more! Our first mint will take place on Avalanche, where we've created 10,000 unique NFT Champions, coming from some of the most popular and trusted DeFi protocols on-chain. Be sure to follow our ongoing development progress at https://www.relaychain.com/botb
PSA (Public Service Announcement): Choose video games, not war!
Are you a community member who wants to add value to the BotB ecosystem? Fill out this form today! 
We'd like to reiterate two important items:
It was relay community members who initiated the concept of BotB, which is an industry first in the space. We have answered your call. Please help us continue to spread the word!

BotB will continue to be a community-driven project, with the core Relay team providing crucial industry expertise. This balance will allow the core team to remain focused on Relay's core Bridging as a Service (BaaS) product in tandem with BotB development. 
Key Launch Partner Reveal #1 
Here comes a new champion! We are proud to announce that Trader Joe will be joining the battle!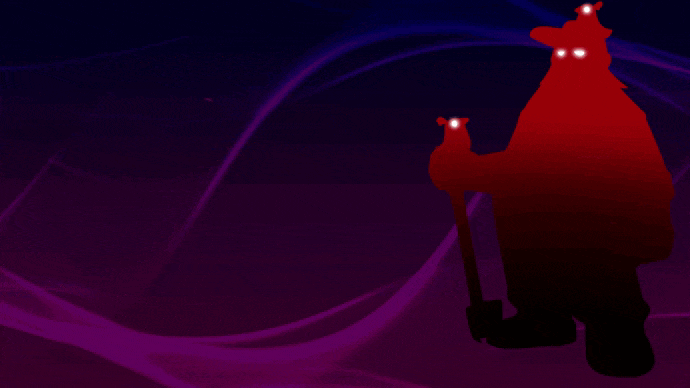 We will be generating 2000 NFT champions for Trader Joe, themed around the Joe mascot. Each Joe NFT Champion is hand-drawn by our talented artists and assigned rarity and ranking features which will play a role in our upcoming BotB game. There are 10,000 total NFTs generated for this first mint – which means our community has a 1 in 5, or 20% chance, to mint a Trader Joe Champion, per minting.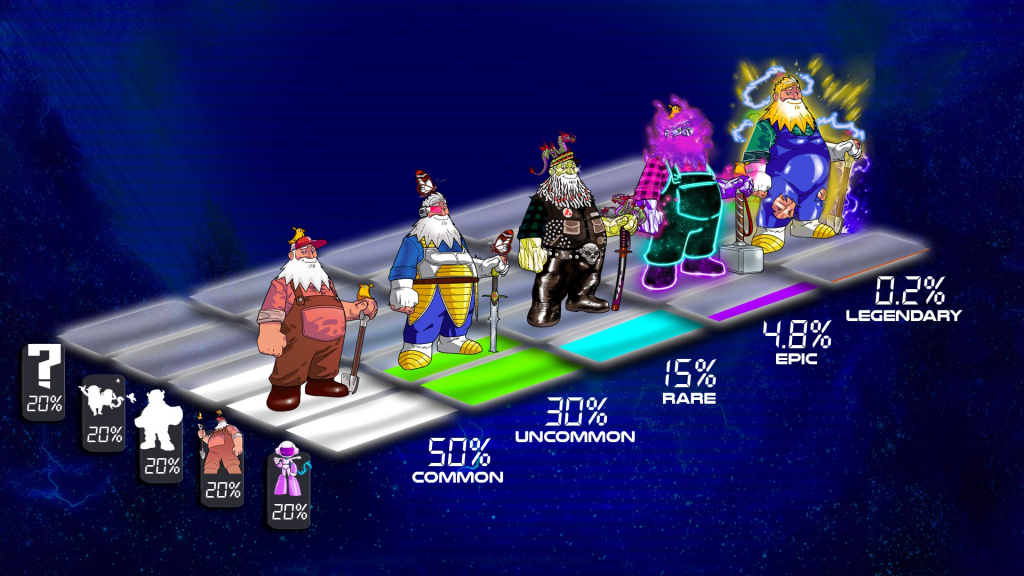 Note: Infographic is for informational purposes only. While the ratios will stay the same, rarity levels may be subject to change.
Mintenomics 
This section provides further details on how we plan to use the mint proceeds.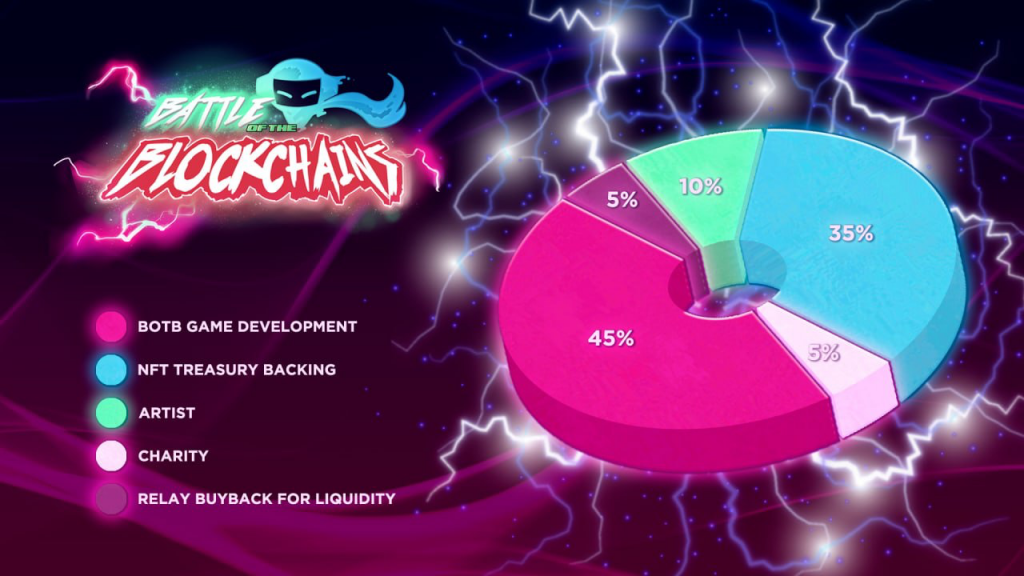 Artist Compensation – 10%
To live our values in a meaningful way, we prioritize supporting our team of talented community artists for all of their hard work and dedication. They are the creative geniuses making this project a reality!
Charity Contribution – 5%
Choose video games, not war 👀
We believe in walking the walk, not just talking the talk. To show this, we are taking a huge step toward being a more socially responsible project. We envision BotB to be a place where everyone can have a lot of fun playing a game while also providing meaningful help to people all around the world.
 Our first focus is supporting Land Back, a movement aimed at getting Indigenous lands back into Indigenous hands. Land Back seeks to dismantle systems of oppression and restore responsible stewardship of public lands to Indigenous people, supporting Indigenous liberation, self-determination and sovereignty while also promoting environmental sustainability and economic justice. Land Back aims to preserve Indigenous languages, traditions and knowledge, as well as to ensure access to sustainable food, affordable housing, and clean air and water. We commit to using 2.5% of our charitable fund toward organizations and causes that support this growing movement. 
The remaining 2.5% will be donated to our first official charity partners: Leyline and Proof of Good DAO. Leyline, commonly known as the "end poverty charity," was formed by gaming industry veterans to gamify good deeds and acts of giving in the real world, build users a digital resume of kindness, pay them for their selfless acts, and bring over 1 Million struggling global citizens out of extreme poverty. Their community is open to all who wish to be rewarded for doing good in the world, and they already have charitable ground operations in over five countries. Much like BotB, they walk the walk too. 
 We are also actively working toward becoming a member of the Proof of Good DAO, an open-source protocol built by the Leyline team to track acts of good and giving on the blockchain, thoroughly vet all member social impact organizations, and shape the future of global charity and philanthropy. Once we are a full member, we will begin to vote in the DAO Hall meetings to decide where these funds go, which new worthy projects become members and what direction our global charity network takes in the future. We are, collectively, building something much larger than ourselves, and we are bringing you, our community, along on our journey. Thank you so much for being a part of this new beginning.
Coming soon: a social responsibility page built out specifically for BotB. We are committed to creating a gaming community that gives back. 
NFT Treasury Backing – 35%
Last week we introduced our first win-win-win-win value proposition blueprint for the NFT minter, ecosystem partner, host chain, and Relaychain, through Treasury Backed NFTs. When the mint is complete, we will take 35% of the total mint proceeds to purchase $Relay, as well as our key partner's tokens, embedding real investment value within each NFT you hold in BotB. By doing this, we strengthen our partner's valuation, increase host chain TVL (Total Value Locked) and give our users measurable asset value, all while strengthening the Relaychain treasury, ensuring project longevity. Everyone wins.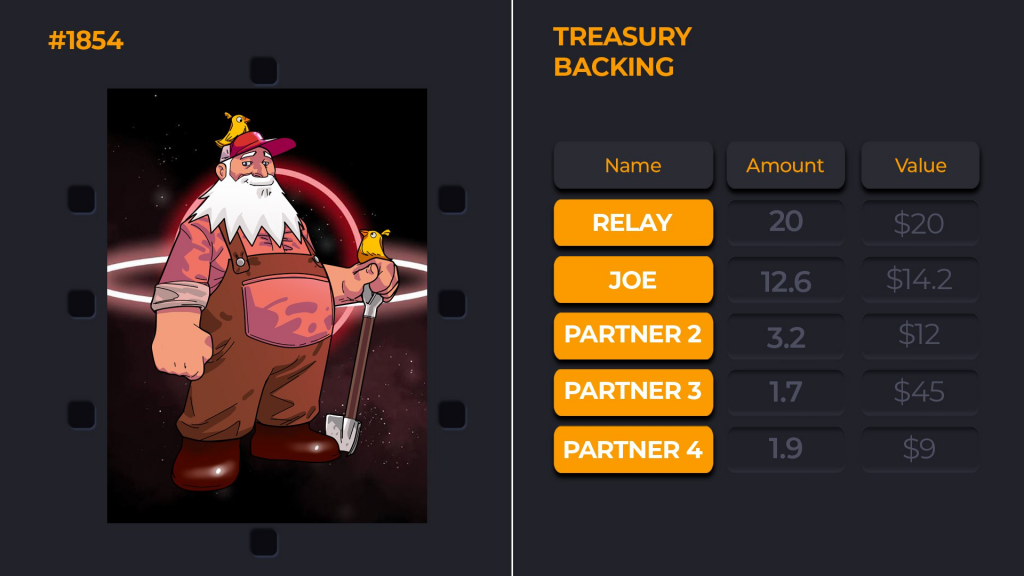 Note: The treasury values shown in this image are for demonstration purposes only.
Treasury tokens will be placed in a 12mo to 18mo rewards pool, i.e. $JOE will be placed in the staking Joe contract (APR at writing = 48.66%). After the staking period is complete, the NFT holder will be able to claim their rewards. Playing BotB isn't just fun, it's sustainable income.
BotB Game Development 45%
Simply put, to ensure this project is successful, we need a professional game development studio to assist us in creating one of the first bridge-based, on-chain game. Fortunately, our team includes many incredibly talented and passionate experts from across the gaming industry who have the experience and foresight needed to know exactly where we need to build additional capacity, and how best to do it. 
While traditional crowdfunding efforts for video games allow early believers to pledge their money early, in exchange for backer rewards and eventual cosmetic bonuses, battle of the Blockchains turns the same concept into a real, meaningful investment for its early believers and backers, as well as our ongoing player base. The idea is simple- invest early in the projects you believe in to gain a long-term financial reward. Continue playing and supporting our/your game after launch to increase that reward. Win-win. 
While NFT games are currently an emerging fad – most simply riding a popularity wave by building traditional game systems on a blockchain, we at BotB have the unique opportunity and vision to leverage the support of a fully-developed DeFi project, Relaychain. This will help innovate BotB into new playability and utility directions, and guide us to success. This allows most of the mint proceeds to go straight into making a thoughtful, fun and balanced on-chain game, using exciting new tech and truly trailblazing in this space. And because we are committed to helping people and planet, we are building our game on the Avalanche blockchain, which, according to the Crypto Carbon Ratings Institute (an environmental impact research company), uses just 0.0005% of the energy consumed by the Bitcoin blockchain, and only 0.0028% used by the Ethereum network. By playing BotB, instead of many other games, you are literally helping to save the planet! We feel really good about that commitment to the planet's future.
Relay Buyback for Liquidity 5%
Being a project of Relaychain, a small portion will go towards much-needed liquidity; at the discretion of the Relay team, but no more than 5%.
Be on the lookout for our next partner reveal, roadmap updates, and more!
Follow us on Twitter: https://twitter.com/botb_game  
Discord:  https://discord.gg/relaychain-botb
Website: https://www.relaychain.com/botb
About BotB
Battle of The Blockchains (BotB)™, a project of Relaychain.com, is a community-led NFT gaming project that plans to bring thoughtful, balanced, and fun game mechanics to players. BotB will be one of the world's first bridge-based NFT games, champions from each chain will battle for $$$$ prizes, bragging rights, investment income and more! By reproducing our core framework, forking and partnering with major players on each ecosystem, BotB will become a scalable solution that works across multiple blockchains, and helps to build a more unified metaverse. Follow us to learn more! 
About RelayChain
RelayChain enables fast, secure, and low-cost cross-chain token transfers between some of the world's leading blockchains. The platform offers Bridging as a Service (BaaS) to partner networks and dApps wishing to expand their footprint beyond a single chain. RelayChain currently supports bridges between any combination of Cronos, Harmony, Moonriver, IoTeX, Ethereum, Polygon, Binance Smart Chain, Fantom, Avalanche, Shiden, and HECO. Many additional popular networks will be added in the near future. A unique feature of RelayChain is that once a token exists on our platform, it can be bridged to any other EVM in our list of networks. This is done in a single step, without the need to return to the parent chain first. This technology represents a major evolution in speed and convenience for all our users, and lays a blueprint for the future of web3. The RELAY token holds high utility, as it's used to reward token stakers with a share of the native gas tokens collected from bridging fees. As a deflationary token, the more transactions that occur, the more RELAY is bought back and burned, continuing to increase the value of remaining token holdings. RelayChain will quickly enable any project's tokens to be bridged at no cost to the original project.