Bridge & Win, Referrals, Staking, and Airdrop
Get your game face on Relayers… We are thrilled to announce several exciting updates!
We continue to be blown away by the outstanding response to our bridge aggregator. As a result of this overwhelmingly positive feedback, we are doubling down on adoption by introducing two exciting new initiatives and modifying two existing ones.
The Bridge Referral Program (NEW!)
Airdrop Seasons (NEW!)
Bridge & Win (UPDATED!)
Staking (UPDATED!)
These initiatives, along with an update on the Relay staking contract on Arbitrum, will help us achieve one of the best user experiences in the space. Stay tuned for Part 2, where we'll provide more details about our aggregator technology, UI updates, and how they'll help us achieve our goal of creating a seamless and user-friendly omnichain experience.
Bridge & Win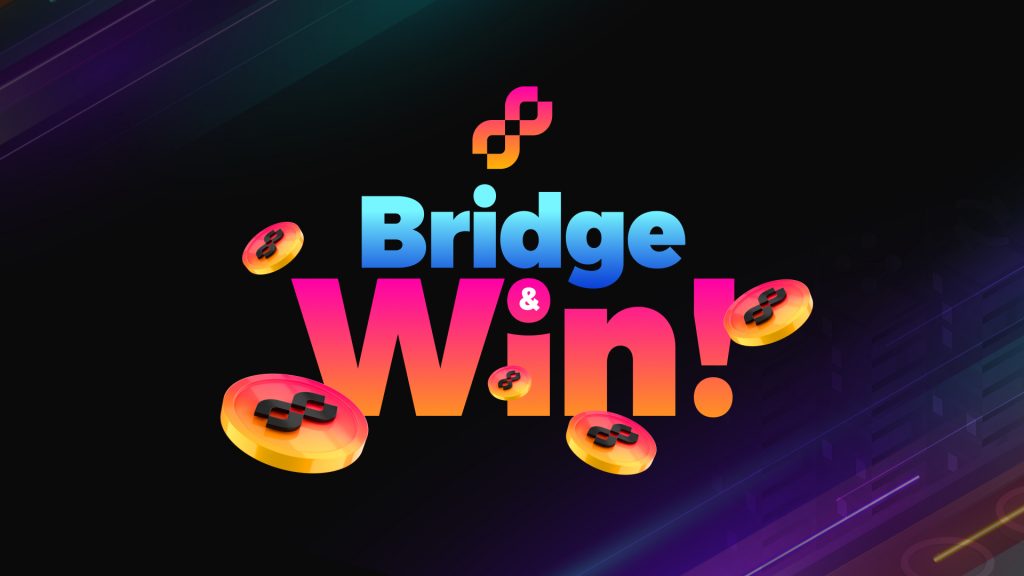 RelayChain's bridge bonus feature has received such an enthusiastic reception that we're making it a permanent addition to our platform! Bridge & Win rewards our existing fans and continues to attract new ones.
Here's how it works: Simply perform any bridge transaction to any blockchain and you will receive a ticket. Then, check the countdown on our website to see when the draw will take place, and, after the draw, check if you've won and claim your prize!
All RelayChain bridge transactions automatically receive one entry. The prize pool for each draw period comes from two sources: our Relay Treasury, which contributes RELAY tokens, and the DeFi infusion, which randomly injects tokens obtained via bridge fees and promotional sources.
There are 10 winners per one-week draw period, and any unclaimed winnings are forfeited after 30 days and returned to the prize pool for future draws.
Join RelayChain's growing omnichain community of bridgers and get free chances to win big!
Bridge Referrals
The Bridge Referral Program is designed to reward our community for sharing RelayChain with others. The referral program has two parts: the referrer and the referee. When you refer a user to our platform, both you and the user receive rewards!
The Referrer: Generate a referral code from our referral page and share it with your friends to use during their bridge transactions. As the referrer, you will receive a fee split from the aggregator's fees once they are turned on, in addition to an airdrop modifier for each successful transaction.
The Referee: Enter a referral code during a bridge transaction to receive an additional Bridge & Win ticket - a two-for-one! - which increases your chances of winning in our weekly draws. To participate, simply enter the referrer's code while confirming your bridge transaction.
The referral program is a win-win for our community, as it incentivizes our users to invite their friends to join our growing omnichain community, while also rewarding them for doing so. So don't hesitate; head to our referral page, generate your unique code, and start referring your friends and followers today! Share however you'd like: text, Twitter, Telegram, Discord, TikTok, whatever! It's a Bridge & Win party, and everyone's invited!
Airdrop: Season 1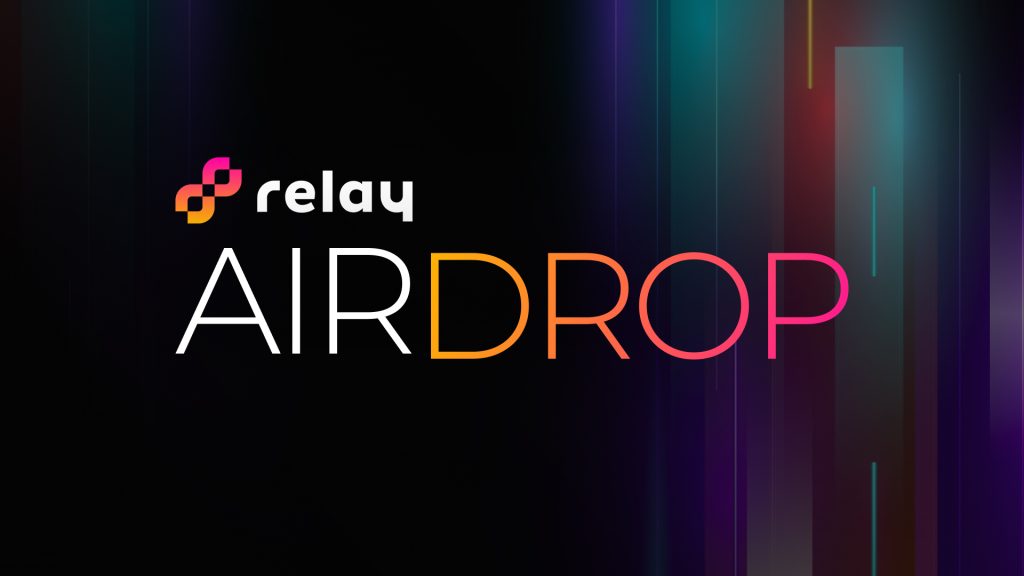 Ser, wen airdrop?
We're glad you asked! RelayChain is launching a unique twist on an airdrop program, designed to reward our active and loyal users. The program will begin with the deployment of our new veRELAY staking contract on Arbitrum, and will feature multiple seasons, each with its own unique twist, and of course, a chance to win big. Get ready to earn rewards and join us for the start of the first season!
To participate in Airdrop Season 1, all you have to do is:
Use the Relay Bridge - the more you use it, the more you can earn,
Share your unique referral code and receive bonuses when others use it, and
Hold veRELAY on Arbitrum to receive additional modifiers.
We're thrilled to offer this opportunity to our community, and we can't wait to see how everyone will participate in the first season of our airdrop program!
ZERO to RELAY Airdrop
This will be completed at the same time as Season 1. Users will have 30 days to claim.
RELAY Staking on Arbitrum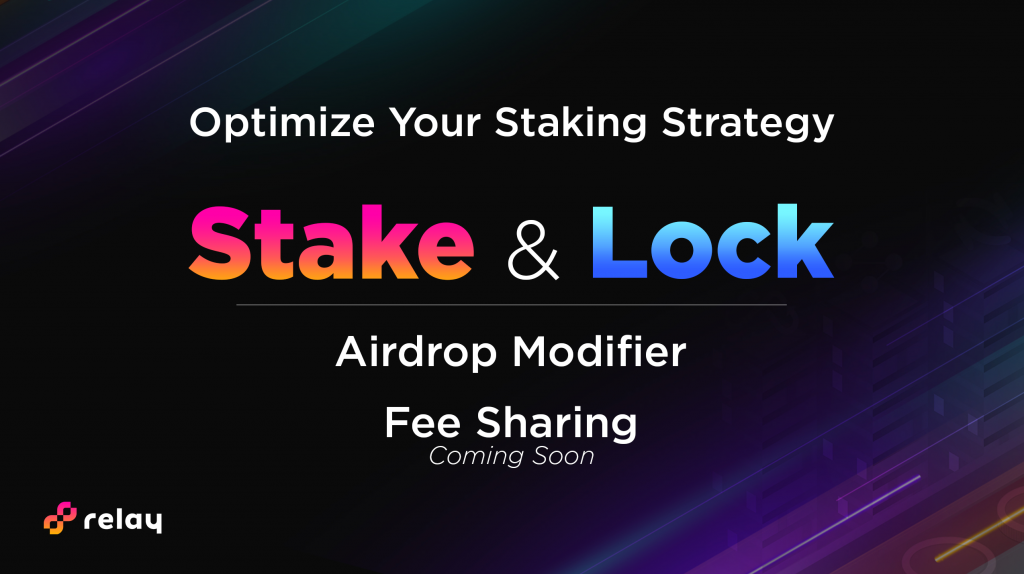 We're super excited to announce the launch of our new veRELAY staking contract on Arbitrum! As our product evolves, so does our staking model.
With the new contract, simply by holding veRELAY on Arbitrum, you'll gain an airdrop modifier and a share of future generated fees, providing even more opportunities to boost your earnings. These exciting updates bring users a better, and more rewarding, RelayChain experience than ever before.
What does this mean for the old staking contracts and those who are using them? The old staking contracts are being deprecated and the use of them will not count toward the new airdrop or future fee-share programs. But, don't worry faithful veRELAYERs, we've got your back!
To show our appreciation for the dedicated users who provided and staked on the first veRELAY contracts, we will be giving away 10,000 RELAY tokens. This giveaway will be based on a snapshot taken on February 27, 2023.
RELAY and veRELAY: How Staking & Locking Work
Our new locking model offers a unique opportunity for RELAY holders to maximize their investments and instantly reap the benefits of long-term staking.
Users can now obtain veRELAY by staking AND locking RELAY tokens. Whichever you choose, you must claim your veRELAY tokens to receive benefits, and once you unstake or unlock your RELAY tokens, you will lose your veRELAY.
Stake
Staking RELAY tokens allows you to mine veRELAY tokens gradually over time. With each staked RELAY, you can claim 0.014 veRELAY per hour, and the maximum amount of veRELAY you can mine is 180 times the amount of RELAY you staked. It takes 18 months to reach the maximum amount.
Lock
Locking your RELAY tokens allows you to receive veRELAY instantly. By locking your tokens for a period of time, you'll earn 0.336 veRELAY for each day you opt to lock your tokens, with a maximum locking period of approximately 12 months. Keep in mind that you can only create one locked position, but you can extend or add to it as needed.
The Bottom Line
This new staking model offers users the ability to tailor their investment strategy based on their goals. For example, if a user has reached the max cap (or nearly so), they might want to keep the position and keep accumulating veRELAY by staking and locking more RELAY, thereby providing an instant boost.
We hope you're as excited as we are about these updates! At RelayChain, we're committed to making the omnichain experience as seamless and rewarding as possible. Stay tuned for more groundbreaking updates and initiatives as we continue on our path to greater adoption and engagement.
Bridge…stake…lock…refer…airdrop…win…repeat!
Thank you for being part of our community and good bridging to all of you!